Closed Cell Spray Foam Insulation in Atlanta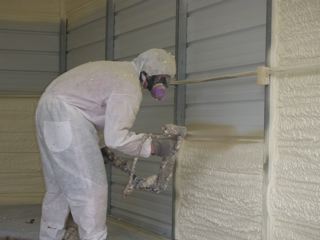 Closed cell spray foam insulation in Atlanta is a type of energy efficient insulation which can be used to insulate residential or commercial buildings. Some of its many uses include insulating walls, roof decks, ceilings, crawl spaces and attics. Closed cell foam insulation will help to increase the energy performance of the building in which it is applied.
This type of spray insulation has an average insulating value of R-6 to R-7 per inch and an average weight of two pounds per cubic foot when fully cured. This is why it is sometimes called the "two pound spray." After the closed cell foam insulation is sprayed onto the surface, it expands anywhere from thirty to fifty times its original volume and forms a rigid plastic. Closed cell foam insulation in Atlanta gets its name because the cell structure of the foam is closed, which means that it blocks air and moisture from passing through it. If you would like more information on how our spray insulation can improve your home, contact the Atlanta crawl space sealing professionals at Southeastern Crawlspaces today.
Our Atlanta Spray Foam Insulation Services
Spray Foam Insulation
Foam Insulation
Crawl Space Insulation
Crawl Space Sealing

Spray Insulation
Closed Cell Spray Foam Insulation
Cellulose Insulation
Closed Cell Foam Insulation

Closed Cell Spray Insulation
Spray Foam
Crawlspace Insulation
Crawl Space Encapsulation
We Provide Spray Foam Insulation to the Following Towns in Georgia
Atlanta, GA | Dunwoody, GA | Marietta, GA | Decatur, GA | Roswell, GA | Kennessaw, GA | Sandy Springs, GA | Buckhead, GA | Brookhaven, GA | Alpharetta, GA
What Atlanta Homeowners Are Saying About Us
Southeastern Crawlspaces is Rated: 3 / 3
based on these 1 happy customer reviews.
---
"My husband and I researched spray foam insultation before contacting Southeastern Insulation. We had gotten several companies to stop by our home and talk with us about their products. We chose Southeastern Insulation to do the work.. (closed cell insulation in our basement which we were remodeling and open cell insulation in our attic). They also did the closed cell spray foam in our crawl space.

The work was done in early Spring of this year but I wanted to wait until the weather changed towards Summer to accurately and honestly give an evaluation of just how much of a difference the work we had done would make. Adam had told us that we'd notice a big difference...and we did. Our house seems so much more comfortable and the air conditioner runs far less than it did before the work was done. One of the concerns I mentioned to all the contractors we had estimates from was that when we stepped out from our kitchen into our garage, t he garage seemed like an oven. When I told Adam this...he said...here's what I suggest...open cell spray the entire garage ceiling...we'll spray the backside of the small door that leads into this attic and I guarantee you that you'll notice a huge difference. He was exactly right.

In the basement remodel, I love the fact that we now have closed cell insulation on the walls. Not only did Southeastern Insulation do a fantastic job, they were professional, courteous, conscientious and worked around our remodel project. They even returned to fix a problem that was created by our remodelers and was in no way a result of their own workmanship. I would highly recommend this company. Our son will soon be buying a house and moving from the condominium he owns. We've told him that one of the first things he needs to do is contact Southeastern Insulation for improving the insulation in any home he may purchase.
It's well worth the investment. "

- Linda Atlanta , GA | Rated: 3 / 3
---
Recent Articles About Spray Foam Insulation
If you are looking for Atlanta Spray Foam Insulation then please call 404-821-2711 or complete our online request form.